Spotlight On:
Custom Newspaper Digitization and the Global Press Archive
East View's Global Press Archive® (GPA) is a groundbreaking program to create the most comprehensive collection of digital news sources from around the world. With GPA, East View has digitized thousands of newspapers from around the world in many languages including Arabic, Chinese, English, French, German, Japanese, and Spanish. The program is currently digitizing over 2.5 million pages a year, including commercial titles, Open Access collections and custom digitization. As a result of this program, East View has developed the expertise and costing models to effectively and efficiently support your digitization project. With a streamlined, cloud-based workflow to support digitization of over 200,000 pages per month, East View can quickly deliver on your project.
Did you miss our webinar on Preparing for Your Newspaper Digitization Project? Register here to view a recording. Also, be sure to check out the recordings from our webinar series: Newspaper Digitization Master Class
Newspaper Digitization Standards
Newspaper digitization is extremely challenging. The source material, intended to be disposed of shortly after being read, is a challenge to preserve. Libraries sporadically collected material beyond the large dailies. Varying font-sizes in numerous columns laid out in inconsistent patterns confuses OCR engines.
East View has the expertise to digitize from microfilm and print holdings using consistent standards modeled on the Library of Congress National Digital Newspaper Program standards. All pages are outputted as archival TIFF images, JPEG2000, METS/ALTO XML and Searchable PDFs to support digital preservation, platformization, and text and data mining. This allows for long-term interoperable uses.
Support Through the Entire Production Cycle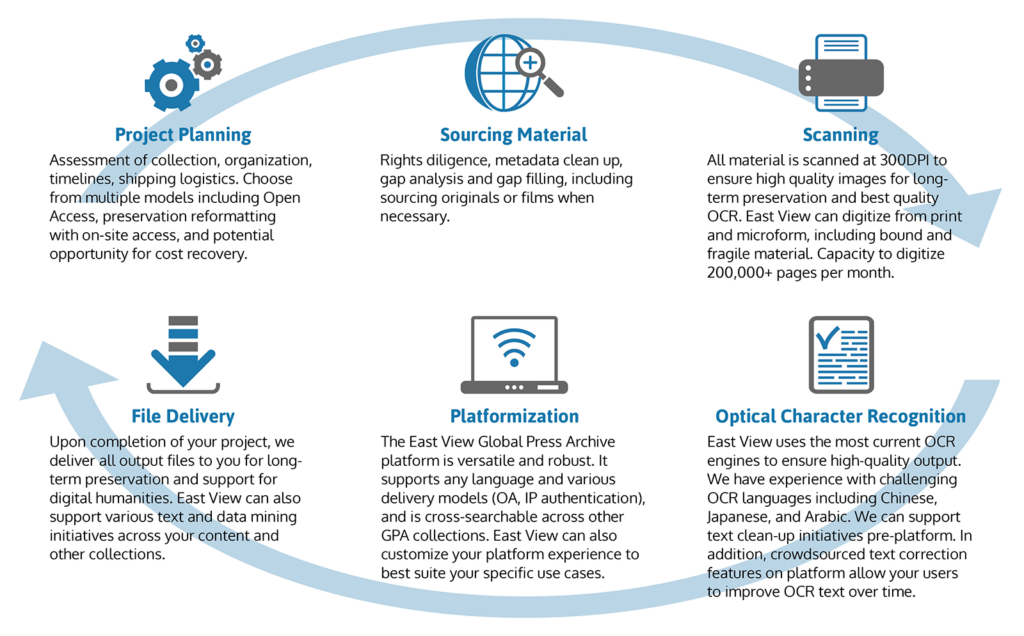 Platform UI
The standard platform for digitization projects is the East View GPA platform, which was designed specifically for academic research of newspaper content and is cross-searchable with other key GPA collections and standalone titles. The platform can support any language and various delivery models including Open Access and IP range-based institutional access. It features a modern, intuitive interface that offers users numerous tools to get the most out of your collection. A number of these features are highlighted below.
Collection Landing Page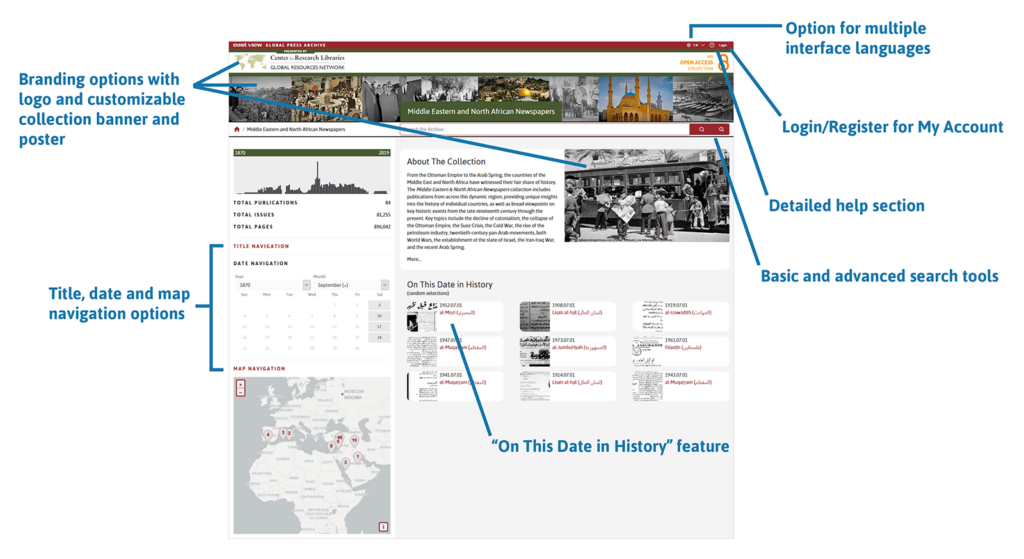 Issue Page

GPA CRL Alliance
East View partnered with the Center for Research Library to accelerate the digitization of newspapers in member collections. The GPA CRL Alliance will ultimately digitize 4.5 million pages spread across nine unique collections selected by CRL advisors (including six Open Access collections). In addition to these collections, the GPA CRL Alliance program also supports CRL member institutions with discounts on commercial GPA products and custom digitization projects. CRL members that choose to do custom digitization with East View enjoy additional value as the standard platform UI for digitization projects matches the UI of the CRL-wide and Open Access collections and can live on the same search platform. Contact your East View representative for more information on the digitization process and available discounts.
Ready to get started?
Download Newspaper Digitization Flyer
Download Digitization Worksheet
Sign up for a free consultation
Have questions?  Register here to view a recording of our webinar on Preparing for Your Newspaper Digitization Project.